Details

Category: Uncategorised
Privacy Policy
ICAB.COM respects your privacy and takes your online safety seriously. In order to provide you with the best products, and timely updates, we record a variety of information from your visit to our site. To better protect your privacy, we provide the notice below explaining our online information practices and the choices you can make about the way your information is collected and used.
ICAB.COM Privacy Policy
Thank you for accessing the website ("Site") of ICAB.COM (all references to "us" and "our" refer to ICAB.COM). We respect your privacy and want you to know about the policy we have in place to protect your personal information.
This privacy policy explains:
How we collect, use, and (under certain conditions) disclose your personal information.
The steps we've taken to secure your personal information.
Your options regarding the collection, use, and disclosure of your personal information.
This Privacy Policy applies only to this website and does not necessarily apply to personal information we collect from you offline. We are not responsible for the content or privacy practices on any website other than Joinartworld.com.
Information collection on ICAB.COM
We collect information from Site users in several different ways, with the goal of providing an efficient, meaningful, and customized shopping experience. For example, we can use your personal information to:
Record and quickly bring up information you've given previously
Help you quickly find product information
Create content that is relevant to you
Alert you of new product information
Registration and Ordering: In order to use certain parts of this Site or order products eg.(Paintings, Drawings, Sculptures, etc.), all customers must fill out an online registration form with personal information, including but not limited to, your name, gender, shipping and billing address(es), phone number, email address, and credit card number. In addition, we may ask for your country of residence and/or your organization's country of operation, so that we can comply with applicable laws and regulations. This information is used for billing, order processing and internal marketing as well as to communicate with you about your order and our site.
Email Addresses: the Site allows you to enter your email address for purposes including but not limited to: registering for free promotional notices, requesting notification when new product arrive, or signing up for our email newsletter.
Log Files: Like most websites, the Site server automatically recognizes the Internet URL from which you access this Site. We may also log your Internet protocol (IP) address, Internet service provider, and date/time stamp for system administration, order verification, internal marketing and system troubleshooting purposes.
(An IP address may indicate the location of your computer on the Internet.)
How does ICAB.COM use cookies and other technology to collect information?
Cookies are small pieces of information that your Internet browser stores as text files on your computer's hard drive. Most browsers accept cookies by default, but setting your browser to refuse cookies or remove them from your hard drive will prevent you from using parts of this Site. ICAB.COM uses cookies to
speed up navigation
track site usage
recognize users and user access privileges
enable selection and purchase of products on this Site as well as record your browsing activity and purchases.
This Site's cookies do not and cannot infiltrate a user's hard drive to gather any confidential information.
help deliver cookies
track views of a web page
Any electronic image on the Site, such as an ad banner, can function as a web beacon. We may use content or ads from third-party advertising companies that may use cookies and web beacons to measure web page visits or amount of products purchased.
Any information these third parties collect via cookies and web beacons is not linked to any personal information we collect.
USE OF PERSONAL INFORMATION
Internal Use: We use your personal information to process your order and provide you with customer service. We may use your personal information internally to collect general information about visitors to this Site, improve Site content and layout, improve our outreach, and market our products.
Communication with You: We will use your personal information to communicate with you about our Site and your orders. All customers must provide an email address to allow communication with ICAB.COM regarding orders placed. We may send you a confirmation email after you register with us as well as service-related announcements as necessary (for example, temporary suspension of service for maintenance.) You may also submit your email address to request notification when we receive a new product, or to sign up for our email newsletter and special offers. You can unsubscribe or opt out of future emails at any time.
Personal Information Disclosure
We sell art-work, not information — We do not sell, rent, trade, license, or otherwise disclose your personal or financial information to anyone, except in the following specific situations:
Third-party service providers: Like most online retailers, we sometimes use third-party service providers to perform specific functions on our behalf. Any information disclosed to them is solely to help in their provision of service. For example, we provide your name, shipping address, email and phone number to partners such as DHL and UPS in order to guarantee delivery of your orders, and we may use relevant customer information in order to monitor the quality of the third party's service.
Similarly, we must provide your credit card number to financial services organizations such as credit card processors and issuers in order to process payments. We protect all submissions of your credit card number for authorization with state-of-the-art data encryption.
Legal requirement to disclose information: We may be required to disclose information if subpoenaed, served with a court order or requested by law-enforcement officials conducting investigations, or if we are otherwise required by law to disclose such information. We will also release personal information when necessary to protect our legal rights or enforce our Terms of Use and other agreements. For example, we may share information to reduce the risk of fraud, or to prevent fraud by users who attempt fraud or other illegal activity on our Site.
Merger and/or sale of assets: We do not normally sell, trade or rent personal information to other companies in the course of our business. However, it is possible that we might acquire, merge with or be acquired by another company, or that we might dispose of some or all of our assets, in which case your personal information could be disclosed to another company, subject to the Privacy Notice in effect.
Non-personally identifiable information: We may share information that does not identify you or any user, such as the number of daily visitors to a particular page, or the size of an order placed on a certain date, with third parties such as advertising partners.
Information Security
This Site incorporates physical, electronic, and administrative procedures to safeguard the confidentiality of your personal information, such as:
Safeguarding all financial transactions done through this Site with Secure Sockets Layer ("SSL") encryption
Granting only employees who are providing a specific service access to your personal information
Working only with third-party service providers who we believe adequately secure all computer hardware.
While our business is designed with safeguarding your personal information in mind, please remember that 100% security does not presently exist anywhere, online or offline.
User Choices
You can choose to:
Correct or update your personal information
Stop receiving mail to your email address
Disable your account to prevent any future purchases through that account
To correct or update your personal information, log in and submit an online request.
To unsubscribe from emails you receive from ICAB.COM, follow the unsubscribe link at the bottom of the email and select the option appropriate for you.
ICAB.COM,  Policy regarding children
We respect children's privacy. We do not knowingly or intentionally collect personal information from children under age 13. Elsewhere on this Site, you have represented and warranted that you are either 18 years of age or are using the Site with the supervision of a parent or guardian.
If you are under the age of 13, please do not submit any personal information to us, and rely on a parent or guardian to assist you when using the Site.
Use and disclosure of user-information collected offline
As ICAB.COM collects most information through our Site, this Privacy Policy applies only to online collection of personal information.
We also protect all personal information that is collected from you offline, such as through phone calls. If we contact you by telephone regarding an order or payment, we will ask only for the personal information needed to place your order or resolve your issue.
This Policy does not attempt to cover all possible offline methods of collecting or using personal information, however, we will treat any offline collection, use, or disclosure of personal information in a manner consistent with our online practices.
Policy Updates
To keep you informed of what information we collect, use, and disclose, we will post any changes or updates to this Privacy Policy on this Site and encourage you to review this Privacy Policy from time to time. Please contact us with any questions about the Privacy Policy.
Details

Category: Uncategorised
Welcome to ICAB.COM
ICAB.COM provides its services to you subject to the policies, terms, and conditions set forth in this agreement (the "Agreement"). In addition, when you use any ICAB.COM service, you will be subject to the rules, guidelines, policies, terms, and conditions applicable to such services, and they are incorporated into this Agreement by this reference.
ICAB.COM  reserves the right to change this site and these terms and conditions at any time.
Accessing, browsing, or otherwise using the site indicates your agreement to all the terms and conditions in this agreement. Please read this agreement carefully before proceeding.
Use of Site
You represent and warrant that you are at least 18 years old or visiting the Site under the supervision of a parent or guardian. Subject to the terms and conditions of this Agreement, ICAB.COM  hereby grants you a limited, revocable, non-transferable and non-exclusive license to access and use the Site by displaying it on your internet browser only for the purpose of shopping for personal art-work (e.g. paintings, drawings, sculptures etc.) sold on the Site and not for any commercial use or use on behalf of any third party, except as explicitly permitted by Joinartworld.com in advance. Any breach of this Agreement shall result in the immediate revocation of the license granted in this paragraph without notice to you.
Except as permitted in the paragraph above, you may not reproduce, distribute, display, sell, lease, transmit, create derivative works from, translate, modify, reverse-engineer, disassemble, decompile or otherwise exploit this Site or any portion of it unless expressly permitted by ICAB.COM writing. You may not make any commercial use of any of the information provided on the Site or make any use of the Site for the benefit of another business unless explicitly permitted by ICAB.COM in advance.
ICAB.COM reserves the right to refuse service, terminate accounts, and/or cancel orders in its discretion, including, without limitation, if Joinartworld.com believes that customer conduct violates applicable law or is harmful to ICAB.COM's interests.
You shall not upload to, distribute, or otherwise publish through this Site any Content, information, or other material that (a) violates or infringes the copyrights, patents, trademarks, service marks, trade secrets, or other proprietary rights of any person; (b) is libelous, threatening, defamatory, obscene, indecent, pornographic, or could give rise to any civil or criminal liability under Greek or international law; or (c) includes any bugs, viruses, worms, trap doors, Trojan horses or other harmful code or properties.
ICAB.COM may assign you a password and account identification to enable you to access and use certain portions of this Site. Each time you use a password or identification, you will be deemed to be authorized to access and use the Site in a manner consistent with the terms and conditions of this Agreement, and Joinartworld.com has no obligation to investigate the authorization or source of any such access or use of the Site.
You will be solely responsible for all access to and use of this site by anyone using the password and identification originally assigned to you whether or not such access to and use of this site is actually authorized by you, including without limitation, all communications and transmissions and all obligations (including, without limitation, financial obligations) incurred through such access or use. You are solely responsible for protecting the security and confidentiality of the password and identification assigned to you.
You shall immediately notify ICAB.COM of any unauthorized use of your password or identification or any other breach or threatened breach of this Site's security.
Copyright
All text, graphics, photographs or other images, button icons, audio clips, logos, slogans, trade names or word software and other contents on the website of Joinartworld.com (collectively, "Content"), belongs exclusively to Joinartworld.com or its appropriate content suppliers. You may not use, reproduce, copy, modify, transmit, display, publish, sell, license, publicly perform, distribute or commercially exploit any of the Content or otherwise dispose of any of the Content in a way not permitted by Joinartworld.com, without ICAB.COM's express prior written consent.
The use of data mining, robots, or similar data gathering and extraction tools on ICAB.COM as well as the use of Joinartworld.com trademarks or service marks in meta-tags is strictly prohibited. You may view and use the Content only for your personal information and for shopping and ordering on the site and for no other purpose. The collection, arrangement, and assembly of all content on this site (the "Compilation") belong exclusively to Joinartworld.com. You may not use ICAB.COM's Content or Compilation in any manner that disparages or discredits Joinartworld.com or in any way that is likely to cause confusion or violation of any applicable laws or regulations. All software used on this Site (the "Software") is the property of Joinartworld.com and/or its Software suppliers. The Content, the Compilation and the Software are all protected under state, national and international copyright laws. All rights not expressly granted are reserved by Joinartworld.com. Violators will be prosecuted to the full extent of the law.
ICAB.COM recognizes and respects all copyrights and trademarks. As such, any usage of television, motion picture, music, film festival or other names or titles have no connection to Joinartworld.com and are the sole property of the copyright or trademark holders.
Intellectual Property Infringement Policy
It is the policy of ICAB.COM to take appropriate action where necessary to uphold and recognize all relevant State, Federal and International laws in connection with material that is claimed to be infringing any trademark, copyright, patent and all or any other Intellectual Property laws. If you are an intellectual property rights owner and you believe that ICAB.COM  sells, offers for sale, or makes available goods that infringe your intellectual property rights, then you are required to send the following information in its entirety to This email address is being protected from spambots. You need JavaScript enabled to view it.
Information required
An electronic or physical signature of the person authorized to act on behalf of the owner of an exclusive that is allegedly infringed;
A description of the allegedly infringing work or material;
A description of where the allegedly infringing material is located on the site (product(s) URL);
Information reasonably sufficient to allow us to contact you, such as your address, telephone number and e-mail address;
A statement by you that you have a good faith belief that the disputed use of the material is not authorized by the copyright or other proprietary right owner, its agent, or the law;
Identification of the intellectual property rights that you claim are infringed by the Website; and
A statement by you that the above information and notification is accurate, and under penalty of perjury, that you are the copyright owner or authorized to act on behalf of the owner whose exclusive right is allegedly infringed.
Termination and Effect of Termination
In addition to any other legal or equitable remedies, Joinartworld.com may, without prior notice to you, immediately terminate the Agreement or revoke any or all of your rights granted under this Agreement. Upon any termination of this Agreement, you shall immediately cease all access to and use of the site and Joinartworld.com shall, in addition to any other legal or equitable remedies, immediately revoke all password(s), and account identification issued to you and deny your access to and use of this Site in whole or in part. Any termination of this Agreement shall not affect the respective rights and obligations (including without limitation, payment obligations) of the parties arising before the date of termination.
DISCLAIMER AND LIMITATION LIABILITY
EXCEPT AS OTHERWISE PROVIDED IN THE STANDARD TERMS OF SALE THAT GOVERN EACH PRODUCT ON THIS SITE, THE PRODUCTS OFFERED FOR SALE ON IT AND THE TRANSACTIONS CONDUCTED THROUGH IT ARE PROVIDED BY ICAB.COM ON AN "AS IS" BASIS.
ICAB.COM,  MAKES NO PRESENTATIONS OR WARRANTIES OF ANY KIND, EXPRESS OR IMPLIED, AS TO THE OPERATION OF THE SITE OR THE INFORMATION, CONTENT, MATERIALS, OR PRODUCTS INCLUDED ON THIS SITE EXCEPT AS PROVIDED HERE TO THE FULL EXTENT PERMISSIBLE BY APPLICABLE LAW, Joinartworld.com DISCLAIMS ALL WARRANTIES, EXPRESS OR IMPLIED, INCLUDING, BUT NOT LIMITED TO, IMPLIED WARRANTIES OF MERCHANTABILITY AND FITNESS FOR A PARTICULAR PURPOSE, NONINFRINGEMENT, TITLE, QUIET ENJOYMENT, DATA ACCURACY, AND SYSTEM INTEGRATION. THIS SITE MAY INCLUDE INACCURACIES, MISTAKES OR TYPOGRAPHICAL ERRORS. Joinartworld.com DOES NOT WARRANT THAT THE CONTENT WILL BE UNITERRUPTED OR ERROR FREE. TO THE MAXIMUM EXTENT PERMITTED BY LAW, Joinartworld.com WILL NOT BE LIABLE FOR ANY DAMAGES OF ANY KIND ARISING FROM THE USE OF THIS SITE, INCLUDING, BUT NOT LIMITED TO, INDIRECT INCIDENTAL, PUNITIVE, EXEMPLARY, SPECIAL, OR CONSEQUENTIAL DAMAGES. TO THE MAXIMUM EXTENT PERMITTED BY APPLICABLE LAW, ICAB.COM's TOTAL LIABILITY TO YOU FOR ANY DAMAGES (REGARDLESS OF THE FOUNDATION FOR THE ACTION) SHALL NOT EXCEED IN THE AGGREGATE THE AMOUNT OF FEES ACTUALLY PAID BY YOU TO ICAB.COM,  DURING THE MONTH IMMEDIATELY PRECEDING THE ACT ALLEGEDLY GIVING RISE TO ICAB.COM's LIABILITY.
Order Acceptance
Please note that there may be certain orders that we are unable to accept and must cancel. ICAB.COM's reserves the right, at sole discretion, to refuse or cancel any order for any reason. Some situations that may result in your order being canceled include limitations on quantities available for purchase, inaccuracies or errors in product or pricing information, or problems identified by our credit and fraud avoidance department. We may also require additional verifications or information before accepting any order. We will contact you if all or any portion of your order is canceled or if additional information is required to accept your order.
Typographical Errors
While ICAB.COM strives to provide accurate product and pricing information, pricing or typographical errors may occur. Joinartworld.com cannot confirm the price of an item until after you order. In the event that an item is listed at an incorrect price or with incorrect information due to an error in pricing or product information, ICAB.COM shall have the right, at our sole discretion, to refuse or cancel any orders placed for that item. In the event that an item is mis-priced, ICAB.COM may, at our discretion, either contact you for instructions or cancel your order and notify you of such cancellation.
Pricing in Different Currencies
Pricing of products sold by Joinartworld.com is based upon figures calculated in EURO (€). The price displayed on an individual product page, is the current price you are liable to pay to ICAB.COM, excluding shipping.
Applicable Law-Arbitration
Where the parties fail to settle dispute within 30 days after such dispute occurs, they agree to submit such dispute to ATHENS Courts for arbitration which shall be conducted in accordance with the Commission's arbitration rules in effect at the time of applying for arbitration. The arbitral awards are final and binding upon both parties. Athens Courts will have exclusive jurisdiction to settle any dispute between us in relation to our products.
Links
This site may contain links to other sites on the Internet that are owned and operated by third parties. You acknowledge that ICAB.COM is not responsible for the operation of or content located on or through any such site.
Remedies
You agree that ICAB.COM 's remedy at law for any actual or threatened breach of this Agreement would be inadequate and that ICAB.COM's shall be entitled to specific performance or injunctive relief, or both, in addition to any damages that Joinartworld.com may be legally entitled to recover, together with reasonable expenses of any form of dispute resolution, including, without limitation, attorneys' fees.
No right or remedy of ICAB.COM,  shall be exclusive of any other, whether at law or in equity, including, without limitation, damages injunctive relief, attorneys' fees and expenses.
No instance of waiver by Joinartworld.com of its rights or remedies under these terms and conditions shall imply any obligation to grant any similar, future or other waiver.
Return Policy
All returned items must be in brand-new condition, unused and with original tags and packaging. Requests to return product due to quality issues, damage during shipping, from use must be accompanied by photos or other evidence that clearly shows the problem with the product received (e.g. painting, drawing, etc.).
Replacements and refunds are not available for paintings with no quality issues. Returns will not be accepted if there is deliberate damage.
Paintings with quality issues are eligible for a full refund within 30 days of receiving your order.
If you aren't satisfied with your purchase, you may be eligible for a return or exchange depending on your situation and the type of product you purchased. We reserve the right to charge a handling fee on all products returned for non-quality issues.
For products that don't fall within the product specific policy, you may return your product by contacting ICAB.COM and requesting a return within 7 days of receiving your order.
If we shipped you an incorrect item: You have the option of 1) exchanging it for the correct product, or 2) returning it for a full refund. Customers must confirm their eligibility for an exchange or return with ICAB.COM before sending products back. In many cases, you have 7 days after receiving your order to contact ICAB.COM and request a return or exchange. Make sure to read the specific policy below for more details (when applicable) and exceptions.
If your package is lost during shipping: Contact ICAB.COM at This email address is being protected from spambots. You need JavaScript enabled to view it. and inform us that you didn't receive your package. Once we confirm with the courier that your package is lost, we will offer a refund or resend your items.
If we shipped you a defective or damaged item: You are eligible for a full refund or exchange. When requesting your refund, please be ready to provide Customer Service photographs clearly showing the problem with the item and its courier number as soon as possible. If you believe your item was damaged during shipping, Customer Service will need photographs showing the damaged packaging as well as "Proof of Damage" documentation to process your exchanging or refund. Alternatively, you can open the item in front of the delivery person and if you find that it was damaged during shipping, you can reject it.
If you are requesting a refund along with your return, please allow up to two billing cycles for your account to be credited once your items have been received and your return has been confirmed.
Beyond the general policies above, we have product specific policies with further details that apply to the following categories:
Cancellation Policy
Many orders can be cancelled at no charge up until shipment. When your order ships, you'll receive an email entitled "Shipment Notification for order#XXXXXXX with ICAB.COM." Orders that have already shipped cannot be cancelled and will be treated as returns.
Orders cancelled within 24 hours of payment confirmation will be eligible for a full refund.
Orders cancelled more than 24 hours but within 72 hours after payment confirmation will be eligible for a partial refund consisting of the full shipping cost and 50% of the product purchase price (if the item has not been shipped).
Orders cancelled more than 72 hours after payment confirmation (and before the product has been shipped) will be eligible for a refund of the shipping costs.
Once your order has been shipped, it can no longer be cancelled.
If you would like to cancel your order, please sign in to My Orders to proceed.
When you receive an email entitled "Payment Confirmation for Order# XXXXXXX with ICAB.COM," your payment has been confirmed.
Details

Category: Uncategorised
Zervas Artistic Community
---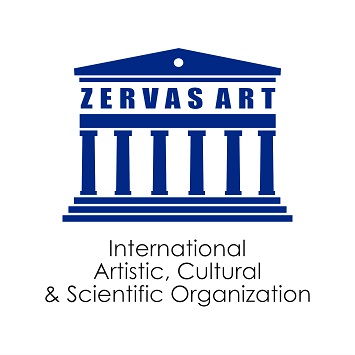 Adress:
Aratou 7 Patras 26211, Achaia Greece

Telephone:
+30 2610 994804

Official Site:
zervas-art.com
President of World Federation of Zervas Art Clubs
President of Club UNESCO for Art & Letters in Achaia
Member of Board in Hellenic Federation of UNESCO
Details

Category: Uncategorised
1. ICAB.COM obliged to complete and delivery the ordered services, within 10 working days.
2. Where a new member agreed to the terms of web site creation or e-shop by himself, he should have completed the work in 20 days. Otherwise, ICAB.COM is forced to cancel such cooperation, without consistent detriment. The deposit is non-refundable and the member may instruct the construction to ICAB.COM.
3. The volume of information per page in the web site, will not exceed 20 files (texts, photographs, etc.). For larger needs, members shall agree on the form of cooperation and further cost.
4. The volume of products (images) in the e-shop, will not exceed 100. For larger needs, members shall agree on the form of cooperation and further cost.
5. The ICAB.COM should receive all the files that will be displayed, in digital form, without mediation or other image editing controls.
6. If the new member needs photography or image processing products, then you will come to an agreement with ICAB.COM.
7. For successful operation and effectiveness of the web site and e-shop, requires active action of all members, as competitive pricing. If a member is inactive, or the products and the prices are not interested in the local or international market, then ICAB.COM bears no responsibility.
8. The first 1,000 members of the community, are considered "founding" and enjoy the discount of around 50%, because an effective contribution to the founding and development of the community.
9. Each member that offers recording of two new members with web site and e-shop or 3 members only with web site, then you will acquire the gift of hospitality for a year in the community. This would be true every year.
10. Any member who has e-shop will offer 5% by volume of retail sales in ICAB.COM.
11. All members have a moral obligation and agree to deal and cooperate with a view to common prosperity and development.
12. All members of ICAB.COM agree to support each other and simultaneously support community development.
13. In online community  ICAB.COM will host thousands of selected artists from around the world and selected businesses of all classes and professions.
14. The community looks forward and seeks to coexistence and interaction of art and business, driven culture of the wider economy and development, both individual and communal.
15. All members understand and agree that the economic cooperation between all members of the international community, and to attract new members selected, will help mathematically in the economic development of its members and the community at large.